Are passive vs. active flows heralding the golden age of smallcap value investing?
In past newsletters, we've discussed how industry trends have been pushing attention away from the small/midcap space. Both buyside and sellside readers are familiar with these forces, as the rise of indexing and passive investing causes large-cap concentration on the buyside, and cost pressure forces sellside firms to reduce coverage of small, less "monetizable" names. With MIFID II (the European regulation forcing the separation of research and trading payments) right around the corner, these themes are unlikely to weaken anytime soon.
It's one thing to wax philosophical about these issues, but another thing to see clear examples in the market. This year, I've been struck by the number of massive takeout premiums for smallcap names in the market. While relatively low interest rates and easy credit explain some of this activity, the size of some of these bids is pretty staggering, begging the question, how did the public markets get all of these so wrong?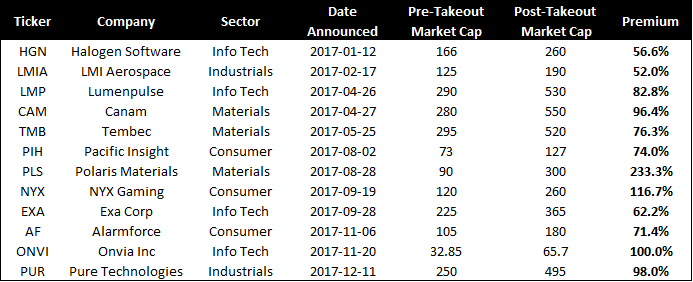 Source: Company reports, Thompson
Both the number of bids and the cross-sector nature of the companies involved speaks to something larger going on. Indeed, the number of North American publically traded stocks has fallen from a peak of around 9,000 companies in the late 90s to only around 5,000 today. However exciting it is to see a takeout bid, every time a company gets bought, a Canalyst research associate sadly but stoically deletes the artisanal, hand-crafted financial model from our database, much like a monk ritually erasing a completed sand mandala. On both sides of the Street, losing an investment or coverage company has a similar bittersweet feeling.
So, what does this mean for investment strategy? To me, it speaks that there is incredible and increasing value in looking at names that no one cares about – one of the founding principles behind Canalyst's massive breadth of coverage. Fair warning, though: there is no free lunch. Looking for these types of stocks is likely to be an extraordinarily painful strategy. On 99.5% of days, these type of names will do nothing. As the FANG bites into your relative performance, or the daily dot.com-esque blockchain-renaming company goes up 40%, you (and potentially your investors!) will constantly wonder whether you're completely out to lunch. To summarize, while the opportunity seems large and growing, the amount of patience and conviction required would tests even the Buffets and Grahams among us.
So, for all of our clients who plan to tuck into the Canalyst database over the holidays in search of some new investment ideas of 2018, I salute those who are both smart and brave enough to explore the increasingly over-looked smid-cap space. Large rewards (and frustration!) await those who are long on both intellect and conviction. Happy hunting and happy holidays!